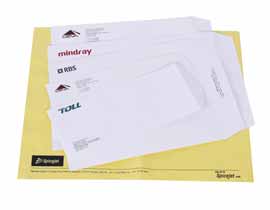 Stationery is something which means manufactured material to write on by hand. Stationery includes products such as notebook, cut paper, envelopes, and dairy. Printing stationery Manufacturers in Delhi refers to the same thing but the materials have printed covers to pages in this case. Stationery is the basic need for any sort of school or office purpose but, printed stationery attracts people by various shades and colours. Especially printed notebook or school copy is a must-have for children to keep them excited about studying.
Premium quality products
We provide our clients with a wide range of computer Wholesale Printed Stationery Suppliers in India. It is highly demanded in various commercial and government sectors. We have professionals that make use of the modern machines to deliver flawless finish and offer high-quality of the stationary. We serve numerous on-demand printing needs and graphic printing including notebook, cut paper, envelops, and diary.
Meet your demand today!
Design, create and print business cards, letterhead and stationery products at Suryanshprints. Speak-up with a stationery printing expert who gets your work done within a stipulated time. Get in touch with us, if you are living in Delhi.